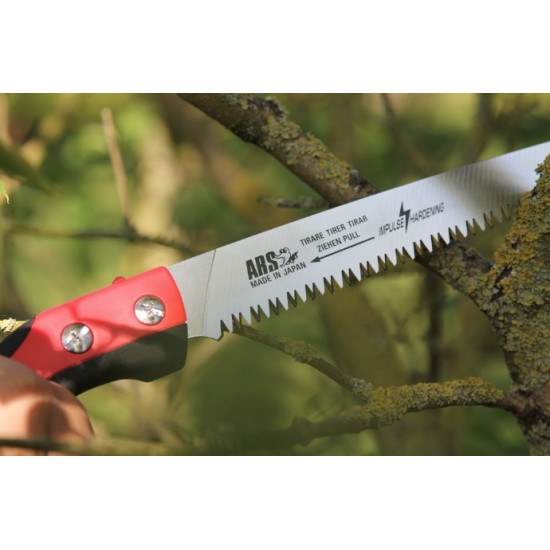 ARS PRUNING SAW
The saw is tapered with a straight blade and has impulse hardened teeth setting. Pruning saws with turbocut tooth settlement costs much less effort to saw while maintaining her unique elasticity. The pulse hardening ensures a long life. Equipped with an ergonomic, red, soft plastic coated handgrip. Comes standard with holster and belt attachment. It is also possible to attach the PRO-ST-strap to the holster for climbing.
• Length : 414 mm
• Blade length : 240mm
• Weight : 280gr
• Maximum cutting capacity : 95mm
• Made in Japan
* Spare blade & central screw. 
ΠΡΟΔΙΑΓΡΑΦΕΣ ΠΡΙΟΝΙΩΝ ΧΕΙΡΟΣ ΔΙΠΛΗΣ ΚΟΠΗΣ ARS
ΕΚΑΤΟΣΤΑ ΛΕΠΙΔΑΣ
24cm
ΘΗΚΗ
ΜΕ ΘΗΚΗ
ΧΕΙΡΟΛΑΒΗ
ΠΛΑΣΤΙΚΗ ΜΕ ΕΠΕΝΔΥΣΗ ΚΑΟΥΤΣΟΥΚ
Stock:

In Stock

Model:

CAM24PRO